An Unnecessary Woman by Rabih Alamenddine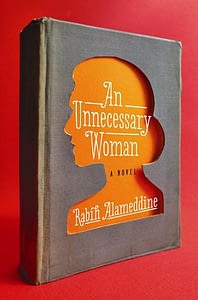 Rabih Alamenddine's latest novel, An Unnecessary Woman, is like a conversation with a new friend. In this case, the friend is a 72 year-old woman named Aaliya who has spent her entire life in Beirut. Or has she?
Aaliya's life spreads out beyond the borders of Beirut and into other people's lives through literature. She communicates with writers and their characters, though the conversations are nothing so concrete as a letter. Instead, it is through her translations of their work and the way the characters reside within her that she carries on these conversations.
An Unnecessary Woman documents Aaliya's life and also the city's life. For readers it's an entrance to learning about Lebanon's civil war and the roles of women in Lebanese culture. Otherwise, the novel does little in the way of plot. Aaliya is an outcast from her family and lives in an apartment they want. The action revolves around Aaliya's relationship with her elderly mother and how Aaliya keeps hidden all of her translated manuscripts. These two questions: what will happen between Aaliya and her mother, and will Aaliya show anyone her translations drive the action; however, there is very little that happens in the novel.
These events almost happen while the reader is invited into Aaliya's apartment for tea. Are they central to the novel or peripheral? The point is for the reader to get to know Aaliya. For Aaliya to understand herself, perhaps she must answer these two questions first.
On the whole, I enjoyed the novel; however, the pace slowed down to the point where I lost interest in An Unnecessary Woman. Sprinkled throughout the novel are allusions and quotes from texts Aaliya has read. I'm not sure if the overabundance of names and works led to the slow pace or if it was something else. At times, I'd pause and think, I'd like to read that book. But, more often, I'd skim, tired of yet another author's work mentioned and little happening.
An Unnecessary Woman leaves me conflicted. Aaliya is interesting. She's smart and witty. I loved learning more about Beirut. The pacing though was difficult and tied to a monotonous lack of movement.