In Disappearing Earth, Structure Suffers for Atmosphere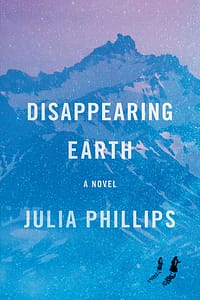 A debut novel that's less of a thriller and more of a conceptual attempt at atmosphere.
In Disappearing Earth, Julia Phillips creates a loose narrative set in the Kamchatka Peninsula. Is the book a novel? Is it a collection of short stories based around a theme? Novels sell better than short story collections, so that may be why this book was packaged as a novel.
As a novel, it doesn't work. The main plot point is the disappearance of two young girls. Their abduction grips the city of Petropavlovsk. However, the book veers away from being a mystery in the traditional sense. We're not following the lead detective. Instead, the disappearance is the backdrop for a series of vignettes that ground the reader in the casual violence toward women and pervasive misogyny. Women are predominantly defined both by men and in relation to men. Anger, alcoholism, and despair rise to the surface while the search for the girls resides below.
On page 105, in the chapter titled "New Year's" we get this passage from one of the characters:
"Some people don't care if you're special. They will punish you anyway. Neighbors, for example, will report a girl, even a smart girl, with a girlfriend. The police will hurt you, if they get the chance. One person up the Okhotsk coast had been burned to death for this only a couple of years earlier. Masha moved away from home at seventeen; when she thought back on life in Kamchatka, she probably pictured volcanoes, tasted caviar, remembered hikes on stone paths to the clouds. She didn't understand what happened these days to girls as innocent as she and Lada had been. They were destroyed for it. Any girl would be. The Golosovskaya sisters, who, walking alone, made themselves vulnerable—that one mistake cost them their lives." 
That paragraph sums up the vignettes. We see the different ways in which women and girls are punished by society. It gets repetitive, especially if you caught the point of the book early. 
The Disappearing Earth will introduce readers to an American woman's perspective of Kamchatka. I wonder how it compares to something a Russian write would create? How does Julia Phillip's experience skew her perspective?
If the book doesn't work as a novel, does it work as a short story collection? I'm not sure it does. With a short story collection, there are hits and misses. The stories are self-contained. The vignettes in Disappearing Earth don't always have a resolution. Instead, it's like a camera zooming out and blending the image from the next scene as the new characters come into focus.