Acceptance for Whom?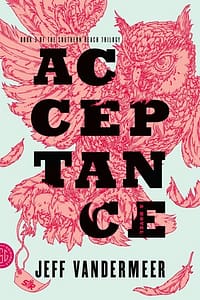 In Acceptance, the final novel of the Southern Reach Trilogy by Jeff Vandermeer, the action continues to move forward; but, interspersed with flashbacks from new points-of-view. As the reader learns about Area X, they also see how Area X came to be and what life along the forgotten coast was like before the event happened.
Control and the Biologist / Ghost Bird are the characters in the present. They're trying to elude the government and make it back to Area X. In the past, we experience Saul, the Lighthouse Keeper's perspective. What brought him to the forgotten coast? Who are the Seance and Science Brigade? And, what do they have to do with Saul? Finally, there is the Director of the Southern Reach, Gloria, also known as the Psychologist from the last expedition. We discover the personal nature she has to Area X and are filled in with her backstory and obsession.
As much as I enjoyed Saul's and Gloria's perspective I wondered if they were actually necessary. How does it move the story forward? We learn that the event was triggered and by whom. But the number of pages dedicated drag on the pace of the novel. It's a balancing act between action and layered richness.
Turning back to Control and Ghost Bird, they are trying to stop the expansion of Area X. The key seems to be Ghost Bird, a copy of the Biologist, and yet her own, dare I say it, person. Will they be able to stop Area X from spreading? Can they communicate with the Crawler or whatever drives Area X?
It's hard to write about a mystery without giving it away. In the end, we learn what happened on Area X. The questions from Annihilation are answered. We see the Southern Reach before the changes wrought in and before Authority. The ending is not neat. It's not quite satisfying either. However the larger themes around survival, environmental resources and human's impact on the landscape aren't neat or satisfying either. At times, I wondered, what it be so bad if Area X spread across the planet? Are people or the thing that is Area X the greater threat to our world?
Vandermeer leaves the reader with hope at the end of Acceptance. It's up to the reader whether or not they welcome it.