Edwin Mellen Press Twitter Parody Account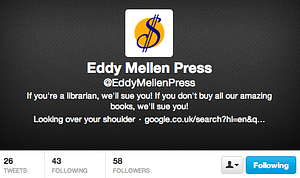 You know you've made it when people start copying and parodying you. The question is: who should be flattered, the person or people behind @FakeElsevier or Edwin Mellen Press? Maybe, just maybe, creating a fake parody twitter account of one's own company would be the last tactic anyone would suspect in order to combat "the pressure of a social media campaign." So Wiley, in fact, it just might work!
Given the twists and turns of these miasmic events, it was only a matter of time before @EddyMellenPress tweeted.
Don't forget, if we sue you, we'll send you a free "EMP sued me and all I got was this lousy t-shirt" t-shirt

— Eddy Mellen Press (@EddyMellenPress) April 1, 2013