Rabbit Run: Video Chatting in the Classroom

Video chatting just got more interesting. Rabbit is new video chatting software, recently released in beta and available for Mac. Yes, you have to download something; however, it is free.
Educational Use
With Rabbit you can create a video chat room for an online discussion (think Google Hangout), but  the real departure is being able to watch streamed content together. Is there a great lecture or TED Talk you want to use for class? Why not make it available for students outside of class time and they can talk about it together online as it plays? If that idea doesn't suit you, Rabbit is more than just videos. You can stream from Google Chrome, perhaps showcasing a website or a librarian could demonstrate how to use online resources to students who are in their dorms.
Of course, there is the ability to have online office hours as well.

Features
Users can make rooms private or open to anyone. If you make a room open to anyone, there will be some restrictions on what you can and cannot share due to copyright and licensing. For instance, Spotify and iTunes are unable to be shared in public rooms.
When you create a room you can use a default background or upload your own.
Each user in the chat room is able to locally control the sound. When I started streaming one of Melissa Terras' lectures from Youtube, I wondered how the sound would interfere with an online discussion. Another user randomly joined my room and explained that he could control sound on his end without it affecting my experience.
In order to easily connect with friends and users, you can join your Facebook account to Rabbit. That allows you to publish your chatrooms in your feeds, as well as find your friends.
Finally, the aesthetic of Rabbit is slick and playful. Users appear through little portholes. There's nothing that gets in the way of the experience. Overall, it seems like they've focused on what's important in a design.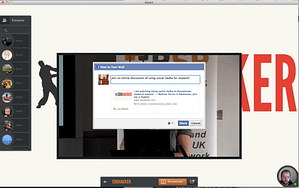 Drawbacks
One major drawback is that Rabbit is only available on Mac. However, Scrivener started out as a Mac only application before eventually developing a Windows version and it's been successful.
In the debate between downloadable software versus software as online service, I'm not sure if having to download Rabbit is a drawback. It ties into applications on your computer in a way that may not be possible otherwise. Part of it may be preference. As web-services gain popularity there may be more of an expectation from users to not have to download something.
Your Experience
Have you used Rabbit? Do you plan to? Let us know what your experience has been and if you can think of additional ways Rabbit can be used for teaching and learning.