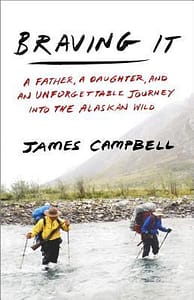 Braving It by James Campbell was a Father's Day gift. I probably wouldn't have picked it up on my own given my interest in fiction. However, I sat down with the book late Sunday evening as my wife, our daughter, and our dog all slept, and soon found I was sucked into the book.
James and his eldest daughter, Aidan, take three trips to the Alaskan Arctic. The book is divided into three sections; one for for each trip. On their first trip, the father and daughter help their friend and relative Heimo Korth build a new cabin. One of Campbell's previous works, The Final Frontiersman, also focused on Heimo. It takes some time for Aiden to get adjusted to the bugs, the fear of bear, the vast solitude of the landscape, and the physical labor. She ends up falling in love with the rough beauty of Alaska and a yearning sense of return settles into her when she and her dad arrive back in Wisconsin.
The second trip Aiden and her dad go on is in the winter. They spend roughly a month in Heimo and Edna's new cabin over Thanksgiving and into December. The temperature drops to -36ºF. Aiden learns how to trap from Edna and hunts alongside Heimo.
Finally, the book ends with the trip James and his daughter always meant to take: a journey down the Hulahula River. The two hike and canoe with two men, whom James is friends with. It seemed like half of the trip was backpacking over the Brooks Range to where a bush-plane dropped their food, gear, and folding canoes for the paddle down the Hulahula into the Arctic Ocean.
The last section of the book is the most poignant. James Campbell intersperses descriptions of the Alaskan wilderness with insight into his own physical decline. He watches his daughter so full of youth and energy, and realizes this may be his last trip to the Arctic with her. There also moments when James' life is at risk and the thought of dying on his daughter, or worst, her dying while they canoe rushes through the reader. It's macabre, but also grounded in the loss of Heimo and Edna's first daughter dying on the Coleen River when she was two-years-old.
In James Campbell's writing, one gets the sense that the Alaskan Arctic is a place of terrible beauty. Modern conveniences and medical centers are hundreds of miles away. One doesn't just need to know basic outdoors-skills, but survival skills as situations can quickly turn life-threatening.
Reading, Braving It, has re-affirmed my desire to learn how to hunt. I grew up camping, backpacking, fishing, and canoeing in Northern Michigan and Ontario. The outdoors hold a special place for me. Also, a love for the outdoors is something I wish to pass onto my daughters. James Campbell demonstrates one way to do that. While he is not always the most patient person, he is insightful enough to learn from his mistakes and try again. Braving It is an inspiring book as father and daughter discover more about each other and where their belief in one another can take them.