SXSWedu
South by Southwest Edu (SXSWedu) is in full swing. Expect a spate of blogposts with the words "launch," "game-changer," "dynamic," "app," "tablet," and "future" to burst forth on the web. You can follow along on Twitter and play bingo on your own.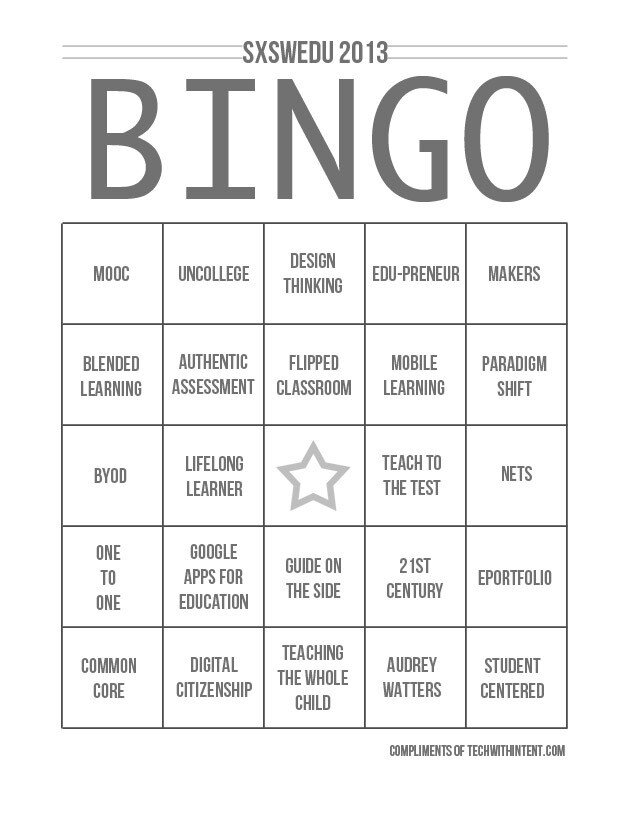 News Corp. Tablet for Education?
What's the logical step for a company that has been embroiled in a mobile device hacking scandal? Why, creating a tablet aimed at K-12 students of course! The tablet is called Amplify and, of course, debuted at SXSWedu.
Watters Takes on TED
In the spirit of questioning ed-tech pronouncements, Audrey Watters questions the seemingly unassailable attitude of TED Talks and argues for the public good of education.
State Higher Education Finance Report FY2012
Investing in education and technology requires money. State colleges and universities may need to take a lead from Stanford's development officers, as state and local support of higher education dropped by 7% in 2012. A quote from Paul Lingenfelter, president of SHEEO, states:
The depth of the 2008 recession and the economy's slow recovery are reflected in the funding, enrollment, and net tuition numbers for 2012. Tuition revenues are up substantially due to higher prices and more enrollments, but not enough to offset losses of public funding. Students are paying more, while public institutions are receiving substantially less money to educate them. These one-year decreases in funding and increases in student costs are unprecedented over my forty-year career in higher education. Moreover, the tapering off of enrollment growth in 2012 seems to be more related to enrollment caps and cost increases than to decreases in student demand for higher education.
Decoding Digital Pedagogy
If you're looking for some guidance on digital pedagogy, two articles to read are Beyond the LMS by Sean Michael Morris and (Un)Mapping the Terrain by Jesse Strommel.
3D Printing
As 3D printing continues to push into mainstream awareness, PBS produced a video that gives a solid overview of the technology and raises questions about the possible impact of 3D printing.

Watch Will 3D Printing Change the World? on PBS. See more from Off Book.
Libraries Continue to Retool
The Roanoke Times reports on developments at Virginia Tech's library. As libraries change though, there is real tension in the profession as to what those changes mean for libraries. Are libraries getting away from their core missions or do these changes reflect our increasingly digital world? The article highlights two perspectives.
Manuscripts Online
Continuing the thread of libraries in the digital age, one recently launched project is Manuscripts Online. Users are able to search an "enormous body of online primary resources relating to written and early printed culture in Britain during the period 1000 to 1500." [1]
Edwin Mellen Press Drops One Lawsuit
Earlier this week, Edwin Mellen Press dropped one lawsuit against McMaster University and librarian, Dale Askey. However, EMP has not dropped its second lawsuit against Askey. Of interest is a summary dating back to a 1994 issue of Library News that questions the quality of EMP and was published on the web by Monash University Library. Thank you Brewster Kale and your Wayback Machine!